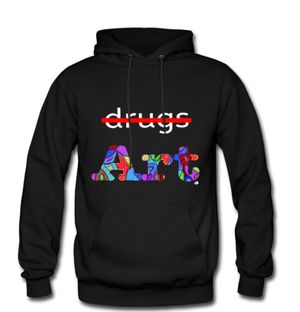 When my business partner and I Habaka, started: Music and Art is my Blunt, we found ourselves in the middle of all kinds of arguments with people on social media, even YouTube. They thought it was a stupid name for a company and wouldn't last. Well, we are almost 5 years STRONG! We may not be millionaires, well I'm not...but we love the name, we believe in the meaning and we support our mission. Slowly we are getting the word out. To let people know that, making art or music your blunt...is way better than making drugs your blunt. 
The side affects of making Art your BLUNT: 
❤️An overwhelming feeling of self accomplishment and self worth. These are normal, they actually last for a long time, so get used to it. 
❤️This uncontrollable feeling to make someone go ape shit over your art. (Ape shit is a good thing) 
❤️A big smile is likely to creep on your face, don't worry, enjoy the ride 
❤️Your heart literally skips a beat, when your art makes someone happy. No need to call 911 or run to the Emergency Room. You'll start to enjoy and crave that affect❤️ 
❤️Ideas flow through your head, like nobody's business. Just relax and let it happen, it's part of the creative process. 
❤️You may experience goosebumps, don't panic, it's natural. If they subside, keep at it, they'll return with a vengeance! 
❤️The most important side affect, of making Art your BLUNT.....IT WILL NOT KILL YOU!! YOU WILL NOT DIE!!! 
Be smart...make the right choice. If you're not sure about what the right choice is, it's NOT drugs. Choose life over death. Get help, NOW, TODAY....tomorrow may be too late. It'll be a struggle, but just like art, you have to keep at it, until you master the art of living❤️❤️ 
1-888-633-3239 
1-888-633-3239 
1-888-633-3239
YOUR COMMENTS ARE ALWAYS WELCOME....SHARE THE LOVE BY SHARING....