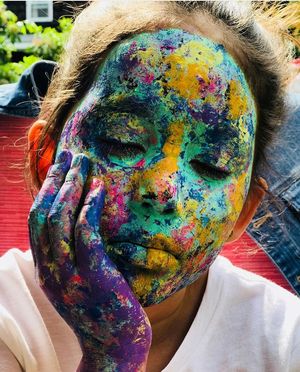 When I look at this photo, I think of our world.  All the colors of humanity wrapped into one big colorful mix.  
Through this child's eyes, she felt the joy of wanting to go walk in the park with her face painted without a care in the world.  She didn't think about how others would perceive her looks, all she knew was that she wanted her aunt JuPo Art to paint her face so she could go to the park and let everyone see her painted face.  She felt beautiful, and that's Pure Innocence.   
I'm Habaka, the other half of Music And Art Is My Blunt and when I laid eyes on this photo, it made me weep.  Being a vocal artist I felt emotionally tied to all that humanity is fighting over, and all of the suffering going on in so many parts of the world. I also felt the innocence of when I was a child.  We have the power to live through color, which is LOVE.  We've got to find our way back to that love for one another.
Look at all the colors here in this photo.  For me it's life! For you it may speak something else.  Let us know what it does for you.  (Photo Credits:  JuPo Art) Music And Art Is My Blunt..."Where Music And Art Become One"  
YOUR COMMENTS ARE ALWAYS WELCOME, SHARING IS GIVING, JOIN OUR MAILING LIST