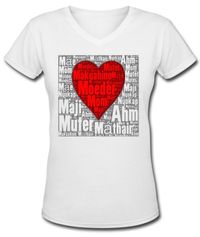 With Mother's Day right around the corner, we have totally out done ourselves with these t-shirts dedicated to Mom's.  Simple yet complex and genius.  You still have time to get these specialty t-shirts with FREE SHIPPING Code:  SHIP2ME and have the perfect unique gift.  You're probably going to want one or both of these in your t-shirt collection, and guess what?  We have an idea, you can also suggest that you want to have them! 
What makes this t-shirt design is; how many ways can you say Mom? All original art work created by us. Shop our store for an assortment of designs. 
YOUR COMMENTS ARE WELCOME....SHARE THE LOVE BY SHARING.....